J.L. Fred Fenker
Founder & Manager
1903 - 1931
Arthur Fenker
Second Generation
1932 - March 14, 1980
Paul G. Fenker
Third Generation
1963 - Present
Allison Fenker Hertges
Fourth Generation
1993 - Present
---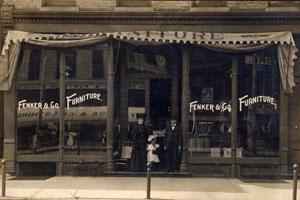 1st Location at 709-711 Main Street
(Now Lincolnway) Presently Antique Junction Mall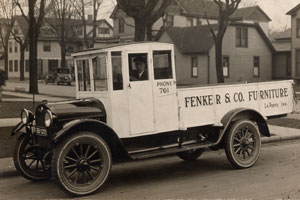 1923 Reo Speedwagon
In 1903, Henry Ford founded the Ford Motor Company, Harley-Davidson wheeled out their first motorcycle, children started coloring with Crayola Crayons, Wilbur & Orville Wright took their first flight, and Fenker & Company sold their first piece of furniture.
Founded by J. L. Fred Fenker, the business has been an important retail establishment in LaPorte for over 100 years. Together with Robert Buck, Fenker announced they had purchased a furniture store in LaPorte County, then owned by W. O. Nanscawen. They opened for business on April 3, 1903 as Fenker & Company at what is now 709 Lincolnway.
In 1909, Fred Fenker continued the business as a sole proprietor at 717 Michigan Avenue. A year later, Fenker's Furniture moved to larger quarters at what is now 523-525 Lincolnway, where it remained until 1925.
In September 1925, the present two-and-one-half story building at 1114-16 Lincolnway was completed, and the business relocated. Fenker's continues to operate at this location to this day.
In 1932, Art Fenker joined the business during the most difficult of times – The Great Depression. Providing quality products and service, Fenker's made it through this trying period.
In 1963, current owner Paul Fenker joined the business. In 1993, his daughter, Allison Fenker Hertges, graduated from Indiana University and joined the business. Paul and Allison run the business together today.
For over 100 years and through four generations, Fenker's has made itself a family owned and operated business, helping fine folks just like you enjoy better living with fine furniture, mattresses, home accents -- and unparalleled customer service.
Customers from throughout LaPorte County, Porter County (including Valparaiso and Chesterton) and Harbor Country have come to know Fenker's for name brands, great selection and prices, plus the kind of personal customer service long forgotten in today's hurried electronic world. All this explains why we have become LaPorte's number one furniture and mattress store. Experience Fenker's Furniture for yourself today.