Fenker's takes great pride in providing all our customers with premier customer service. Whether you have bought the latest Beautyrest, a new couch, occasional table or sofa sleeper, we are always happy to help you in any way we can - or answer any questions you may have. In our store, on the phone or in your home, you'll always find our staff to be friendly, helpful and professional. Our objective is to help you achieve the look you are after.
To help achieve that objective, we provide customer care services including furniture and mattress delivery, designer services, clock repair, lamp shade fitting and convenient financing options.
---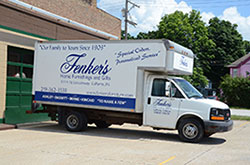 Furniture and Mattress Delivery
We offer professional in-home delivery of new furniture and mattresses purchased at Fenker's. Whether it's an entire living room, a new dining table, recliner, couch, bunk beds, coffee or occasional table, we will bring your purchase to you. Direct from our showroom to your home, receive your new home furnishings quickly and effortlessly.
Many purchases will include free set-up and delivery within LaPorte County. "Markdown" or "Clearance" merchandise is at a "take with" price; delivery is always available and may incur an added fee. For our friends in Porter County (including Valparaiso, Chesterton and Porter) and those in Harbor Country, there may be an added delivery charge; please ask a Fenker's representative for specifics. For further details on our furniture and mattress delivery service, just ask us.
---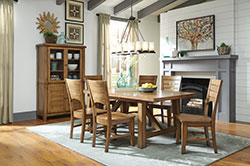 Designer Services
Are you having difficulty decorating that certain room? You want to make a change, but just aren't sure where to start? The professional design team at Fenker's can help make your dreams a reality. Put our years of design experience to work in your home and make your room design dreams reality.
Our design process is straight-forward. We take the time to get to know you, your lifestyle, as well as your likes and dislikes. We provide practical recommendations and work to stay within your budget. Through the use of traffic flow, seating needs, lighting, floor space, colors and fabrics, we can help you achieve a functional, personal and beautiful room arrangement.
Bring in your room plans or your ideas and we'll be delighted to help you complete the design of your room. Or, for a nominal fee, we can provide an in-home consultation – our designers will advise you right in your home!
Room design need not be frustrating or complicated. The Fenker's design team can make it easy on you. Friendly, helpful advice is awaiting you at Fenker's!
---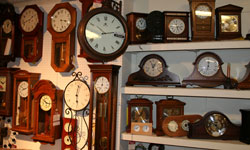 Clock Repair
Hickory Dickory Dock
Has your clock lost its tock?
No need to be despaired
Just contact us to get it repaired!
Our professional clock repair service will bring the tick back to your tick-tock. We service cuckoo clocks, rhythm clocks, miniature novelty clocks and Howard Miller clocks. Bring your clock in and we'll be happy to let you know what we can do. Professional, dependable and priced right – your clock will be in good hands with the Fenker's team!
---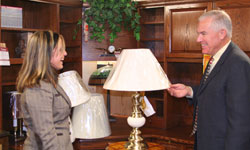 Lamp Shade Fitting
Are your lamps looking a bit worn, but you really like what you have and don't want to change? How about new lamp shades to give your existing lamps new life?
If lamp shade sizes leave you a bit perplexed and fitting a shade to a lamp leaves you with cold sweats, we can help! Bring in your COMPLETE LAMP AND SHADE to get it professionally fitted for a new shade. We have many styles, sizes and colors in stock. We can also special order a lamp shade to suit even the most unique lamps. We can even have your shade recovered. The Fenker's team will make sure you leave with a beautiful, properly fitting lamp shade.
---
Financing
See something you really like in our vast showroom? Fenker's Furniture is of course happy to accept payment by cash or check. For your convenience, we also accept Visa, MasterCard, Discover and American Express.
We also invite you to take advantage of free financing (to those who qualify). Apply for the Fenker's Charge Card; various payment options are available throughout the year. See store for details. Subject to credit approval.
Perfect for the holidays, try our convenient lay-away plan. Pay just 30% down at the time of purchase, and pay only 10% of your original balance each month until it is paid off. It's easy, and it's free financing too!
If you have additional questions on any of our customer care services, just ask us.