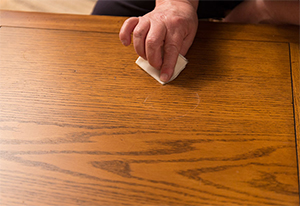 Few things add as much beauty to a room as wood furniture. Coffee tables, end tables, sofa tables, occasional tables and dining tables – they all have the unique ability to add warmth to a room – and a handy place to set your newspaper and television remote control. However, wood furniture can be damaged – so it requires special care and protection.
To protect and properly care for your wood furniture and keep it looking new, we recommend the following helpful tips:
Avoid placing wood furniture under windows or in direct sunlight, as sunlight can cause fading of wood.
Avoid dramatic changes in temperature where wood furniture is located by placing it away from radiators, heat, air vents, air conditioning ducts and fireplaces or stoves.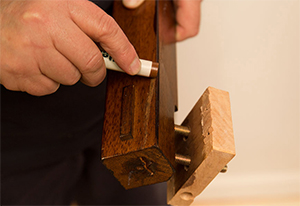 Do not place plastic or rubber materials (lamp bases, notebooks, placemats, etc.) on your furniture, as some plastics contain ingredients that can damage the wood finish.
Rotate accessories on your wood furniture from time to time so they do not sit in the same spot all the time, also helping to avoid fading.
Use pads, cloth or felt to protect furniture from plastic or rubber, as well as hot dishes, beverages, and any objects that may contain water.
Clean up spills immediately using a blotting action (not a wiping action). Water left on the surface of wood furniture can cause white spots in the finish. Alcohol, perfume, after-shave and medications can also damage wood finishes.
Lift and place objects rather than dragging them across the surface of the wood furniture.
With proper care, your wood furniture can look beautiful for many years. To help keep wood furniture such as coffee tables, sofa tables and dining tables looking great, we recommend Guardsman's line of premium performing furniture care products. Click here to view wood furniture care and protectant products from Guardsman.
You can protect your wood furniture even more with the Guardsman Elite Furniture Protection Plan. It covers accidental stains and damage to your wood furniture. When you invest in new wood furniture, you want to keep it looking great for years. With the Guardsman Elite Furniture Protection Plan, you'll get peace of mind knowing that your wood furniture is protected from such things as water rings, coffee stains, pasta stains, scratches, and other unfortunate mishaps. Click here for an informative video from Guardsman about their protection plans.
.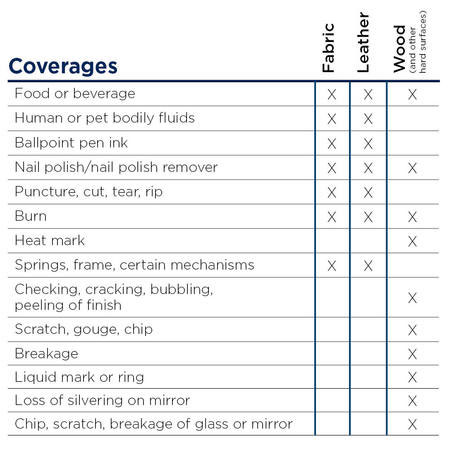 Caring for your new wood furniture doesn't have to be nerve wracking. With the proper knowledge and tools, you are well prepared to keep your wood furniture looking new for many years.  And the Fenker's team can help! We will be happy to answer any questions you have regarding the care and protection of your new wood furniture. Just ask us!
---
Some of the links on this page may require Adobe Reader to view them. The Adobe Reader is available for download by clicking here.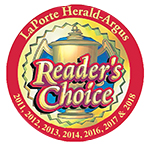 "The biggest benefit is the individual attention given to me as a customer (client). Also, I know that I can purchase quality furniture which will last for years. If there would ever be a problem, Fenkers will be there to take care of it. I feel confident in purchasing any item from Fenkers."