Thanks for submitting your inquiry or comment! We'll review your submission and, if follow-up is required, contact you in the manner you have indicated. Thank you for visiting Fenker's Furniture Online!
Fenker's Furniture values your trust and privacy while online. We will never rent or sell your personal information that you provide while visiting our web site. For more information, please review our Privacy Statement.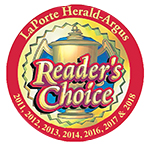 "The biggest benefit is the individual attention given to me as a customer (client). Also, I know that I can purchase quality furniture which will last for years. If there would ever be a problem, Fenkers will be there to take care of it. I feel confident in purchasing any item from Fenkers."